If you find yourself answering the similar questions in email, there is a nice short cut to make save a response and have it ready for the next time the question hits your inbox.
A common use case could be getting tech support to parents or students. Or perhaps you launched a new project and are getting some questions over and over.
You do need to turn on template first in your gmail settings:
Directions for turning on "Templates":
Top right corner. Click Settings Gear.
Then click "Advanced."
Turn ON "Templates"
Now let's make one!
1. Start by composing a new email in Gmail. Give it a Subject and Compose the message (BE SURE TO DELETE A SIGNATURE LINE-Pro tip from Jeff!)
2. Then click the three dots in the bottom right
3. Choose Templates, then Save Draft as Template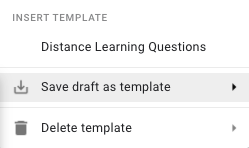 4. Give your template a name

To use your new template, begin the process over.
1. Compose a new email OR just open the email that you received from the person asking the question.
2. Click the three dots in the bottom right
3. Choose templates
4. Now, you'll see your template name under recent and can use it.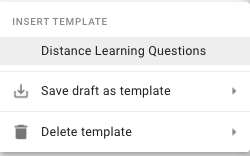 5. Watch the magic happen as you load the template.
6. Make any adjustments that are needed.
Bonus!
Here are two sample email templates you can practice with.
_________________________
Thank you for your email! I would like you to contact the tech department to get help with this issue.
If you visit help.lcusd.net you can submit a ticket in the top right corner.
Someone will get back to you to help fix this issue.
Thanks,
Your Amazing Teacher
__________________________
Hi!
Thanks for your email. I have a couple of support documents from the tech department that should help you:
Classlink Basics:

https://help.lcusd.net/hc/en-us/articles/360047034913-Classlink-Basics

Accessing Classlink at home using Google:

https://help.lcusd.net/hc/en-us/articles/360009579554-Access-Classlink-from-home-using-Google

Using Classlink on Macs or PCs (for kids not using a Chromebook):

https://help.lcusd.net/hc/en-us/articles/115004514834-Classlink-at-Home-Installing-the-Required-Browser-Extension
Please take a look and if that doesn't work for you, you can contact the tech department at help.lcusd.net and submit a help request. You'll see "Submit a Request" in the top right.
Thanks and have a great day,
Your Awesome Teacher