Google Classroom notifications abound. They are there to help and inform, but they can overwhelm you easily. Take charge of them by choosing which ones to keep on and which ones to turn off (or turn them all off!)
From the Google Classroom dashboard, click the three lines in the top left corner.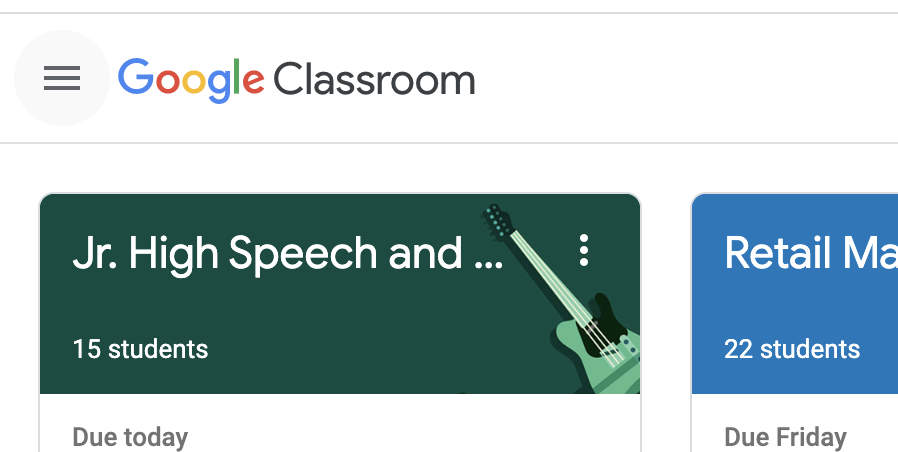 Click "Settings," which is the last choice in the menu that pops up.

You can turn all notifications off by UNclicking "Receive Email Notifications." This means teachers will not receive any emails if a student turns in a homework assignment late for example, or that students will not receive any emails when teachers post new assignments.

You can choose to keep Email Notifications on but decide which notifications will come through your email. You can choose to only keep "Private comments on [your] work" or "Late Submissions of Student Work."
For teachers, we suggest to keep on the following notifications: Private comments on work; Late submissions of student work; and Scheduled post published or failed.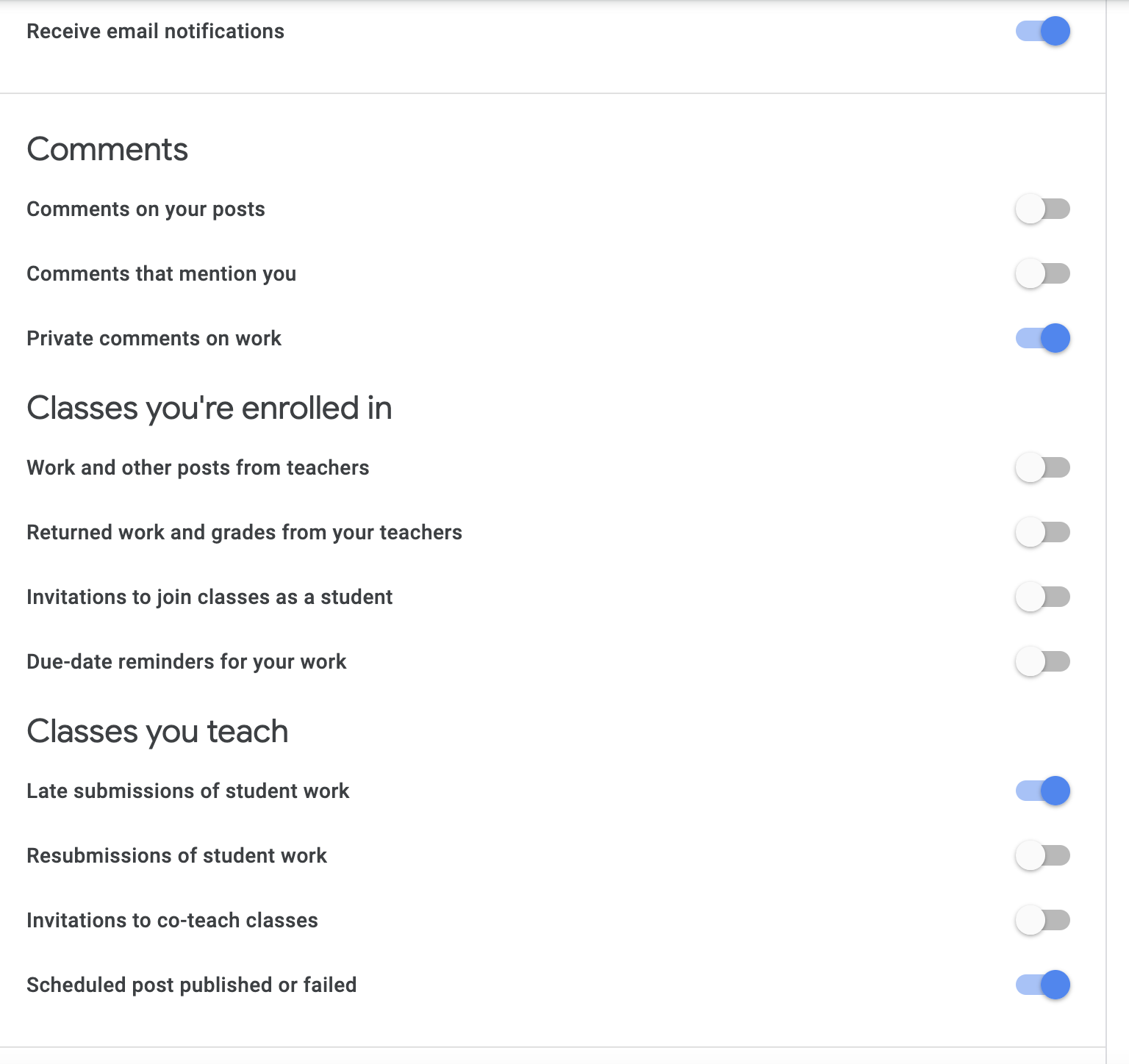 For students, we suggest to keep on the following notifications: Private comments on work; Work and other posts from teachers; and Returned work and grades from your teachers.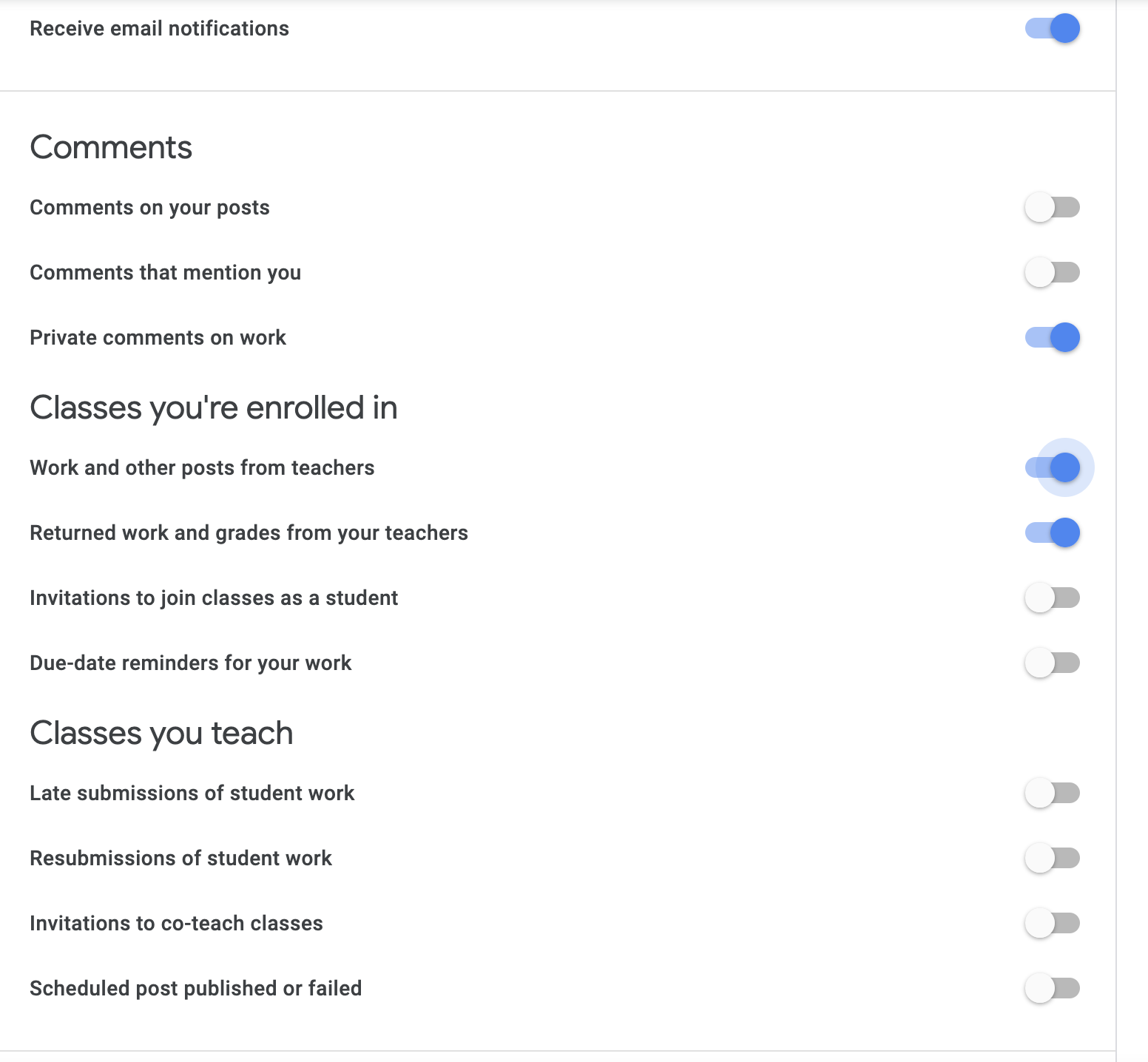 If you choose to turn off all notifications, please keep in mind three suggestions:
1. Turn ON notifications for a few minutes simply to skim the list of the types of notifications before turning them off. This will give you an idea of aspects of the Google Classroom process that you should create a different protocol for.
2. As a teacher, explicitly tell students how to alert you to late work or private questions/comments because you have notifications turned off. As a student, be proactive and check all Google Classrooms thoroughly, daily, to stay informed and on top of new assignments if you have notifications turned off.
3. Google Classroom should be your initial and most important communication tool for your classroom. Do not put anything on Remind or in an email to students that you haven't already posted on Classroom. This is the best way to ensure students understand your expectations and know how to get help: if all students know that all information they need is on Classroom, they are more likely to pay attention to what you post there.
Final Note for Teachers
Establish the communication routine with your class(es) around announcements and assigments. What time should they expect the posts? You cannot assume students have email notifications on. For example, you may want to have all assignments scheduled to post by 8:30am so kids know when to expect their daily work.