You will want to create your Google Classrooms, via classroom.google.com, first. Title each one with the corresponding class, subject, and/or period.
Add all announcements, materials, and assignments for the first day or week of school.
Now open Aeries.
On your Aeries dashboard you will see all of your classes/sections listed.

Notice to the right of each course you see a button to "Add Website." Click "Add Website" for the first class you would like to connect to a Google Classroom.
When you click Add Website, a small window will pop up with two options: "Create" or "Link."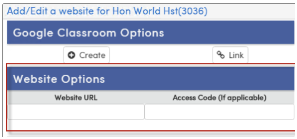 Choose LINK.
This will then prompt the connection between Google Classroom and Aeries and it will pull up your already-created Google Classroom choices. You choose which one is correct for that period/section.
ENTER SCREENSHOT HERE.
Allow Aeries a few seconds to connect the students enrolled in this class to populate your Google Classroom. You will see a pop-up window that says, "Classroom was successfully linked."
Click OK and continue with the next class.